The Traditional British Pub in Wanchai
Trafalgar has been serving delectable dishes over the past 10 years. Traditional with an in-house brewery guarantees you an experience of being in the United Kingdoms without flying there. We serve a delicious range of fine, traditional British food and delicacies such as Fish & Chips, Yorkshire Pudding, and a range of other authentic fares. Our carefully crafted drinks list includes a great selection of premium beers and ales. With TV screens lined on the 4 walls, you can enjoy watching sports channels all day long.
And, middle of this year, we have unveiled the newest pizza place in Wan Chai named Primo Pizza and Bar. If you haven't been there yet, you should go.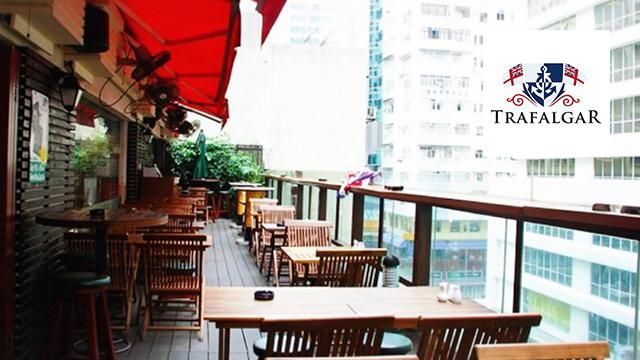 Have you been in Primo Pizza & Bar?!
Get the latest promo on food and drinks!
PRIMO Pizza & Bar provide customers with a delicious meal since the doors opened. We continually strive to make the freshest oven-baked pizza with natural ingredients while not skimping on portions. Being the newest pizza and bar place in Wan Chai, we love keeping our customers happy with friendly service and top-quality products. We served pizza loaded with melted mozzarella cheese and fresh toppings. We also have gluten-free and vegetarian options on our menu. Our oven-baked crispy thin crust is the best selling among our regular customers. We continue to explore menu options while maintaining the same great taste and quality our customers expect.
LIKE us on Facebook so you'll get the latest updates on events and promo.
CENA is a locally owned & operated restaurant. We serve a variety of Latin cuisine comfort food complemented with craft cocktails, drafts & fine wines.
Healthy, Family Friendly & Affordable.
Follow us on Facebook to get our latest menu and promo.